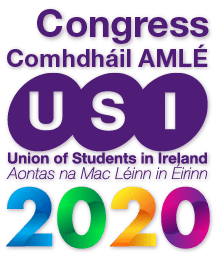 USI Congress performs the essential democratic tasks of the Union of Students in Ireland.  It is the supreme governing body of USI and makes the main decisions for the national movement.  This year, due to the Coronavirus contingency, USI Congress will take place online.
The major functions of USI Congress are:
Elections

Delegates to USI Congress elect the Executive Team of USI and the President of the organisation.

This will happen online on this site.
A live online hustings event will take place before the election ballots open, on a Live Stream from Zoom.
Candidates will also post their own hustings pitch videos, hosted on this site

Accountability

Each member of the Executive Team is required to give an account of their work undertaken since June to Congress, and USI will give an account of the financial position and how your affiliation fees are spent

This will happen during the live online plenary sessions, using the Zoom platform.

Policy setting

USI Congress debates and sets the policy for the subsequent three years.

This will happen during the live online plenary sessions, using the Zoom platform.
Elections
Any member of USI (which means any student studying in a college whose Students' Union is a member of USI) can stand for (almost) any election in USI.
The positions change from time to time, but in general these are:
President
Vice President Campaigns
Vice President Academic Affairs (Education)
Vice President Welfare
Vice President Equality and Citizenship
Vice President Irish Language
Vice President Postgraduate Affairs
and Vice Presidents for each of Dublin, the Border Midlands and West, Southern regions.
For the purposes of all USI's work, Sabbatical Officers in each member organisation are also considered students.
To seek election you must secure the nomination of two Member Organisations (submitted on their headed paper and signed by the President of their Students' Union), which must be from inside your region if you're standing for regional VP.  This process closed in February 2020.
Accountability
The President and each Vice President will give an officer report in written format on the site, then formally commend it to Congress.  This report will be available on this site.
Opportunities to question each VP will be given.
Policy Setting
This whole site is designed to concentrate on Policy Setting, but here it is in brief:
Member Organisations propose policy in 'Motions', which set out a decision to be made and actions to be taken by Congress and the Executive Team in future.
Members of Students' Unions can feed into those motions by making contact with the President of your Students' Union.  This process closed in March.