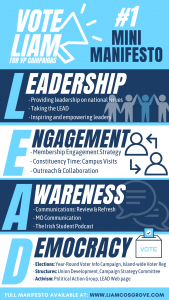 While you're here… don't forget to head over to: www.liamcosgrove.com where you can find my full manifesto, my CV, and more about me!
ABOUT ME:
Who am I?
I'm a Politics and Sociology graduate and the current President of Maynooth Students' Union and I'm running to be your next USI VP Campaigns!
I'm originally from Cootehill in County Cavan but I live in Maynooth full time now. I've been involved of various aspects of Student Life in Maynooth over the past 4 years being an Orientation Leader, a Society President, an Academic Rep and a Senator for 3 years. I'm obsessed with politics and current affairs and I love helping people better understand the world of politics!
MANIFESTO: L.E.A.D
Leadership
Providing leadership on national issues – USI has been at the forefront of great social change since its inception. That doesn't just happen, we need our national officers to take the lead and the initiative. I have a track record of doing this throughout my time in the student movement and that is something that I'd like the opportunity to continue!
Taking the LEAD – A key part of the job of VP Campaigns is organization and strategy. Organising campaigns and developing strategies is something I've been doing throughout my time in college including spending the last 4 years developing the L.E.A.D. Strategy. If elected I want to use my experience to run USI's campaigns but also to implement the LEAD Strategy on a national scale.
Inspiring and empowering leaders – I want to work to inspire other students and officers the way USI inspired me. But we also need to be a vehicle to empower our members and officers to achieve their dreams and be able to do their jobs to the best of their ability. That starts with ensuring that all members know our structures and how to use them as well as good quality SU Trainings and year round support.
Engagement
Unfortunately very few students know who USI is and what it does. How can we truly be the representative body of 374,000 students if they don't even know we exist.
Membership Engagement Strategy – I want to develop a membership engagement strategy as I have been doing in MSU and attempt to rebuild and strengthen the student movement. But this involves Active Engagement including on campus 'Constituency Time'
Outreach & Collaboration – Another excellent way to increase engagement is by expanding our horizons and reaching out to different groups on and off campuses to build stronger relationships and hold more events so we are more visible on campus. Also strengthening our alliance and support of other trade unions. Stronger Together.
Awareness
Communications – Communication is difficult, but it's also essential to becoming the movement that we can be.
Review & Strategy: We need to do a full review of communications with a view to publishing a communications strategy that everyone is up to speed on. This is something I've done myself in Maynooth so I have the experience as well as the learnings of what might work in USI.
Refresh: While the work that we do is serious, it doesn't have to be boring. In order to get students' attention we need to refresh our communications and get up to date with the latest trends. This involves using my experience in social media management to show the behind the scenes of the Coist Gnó and getting our website and socials up to date.
MO Communication – Alongside the membership engagement strategy I would like to continue the work that's been done in developing a better internal communication strategy with MO's to keep them in the loop and providing them with the easiest way to promote our events and campaigns etc.
The Irish Student Podcast – It's important to talk about the key issues that the student movement is dealing with students and spreading awareness so that we don't continue to work in a vacuum and be accused of being out of touch or a clique. It's also a bitta craic!!
Democracy
My three pillars of Democracy are:
Elections
Year round Voter Info Campaigns to keep students up to date with how to use their government and remind them that they have a very strong say and vote collectively.
Island-wide Voter Registration Drives – Regardless of whether there is an election coming up or not we need to make a point of registering as many students as possible to make a very clear statement to government and politicians that students are active voters and are watching closely.
Structures
In between elections, be they USI elections or national elections, students should be empowered to still stay involved and use the structures that exist to hold their leaders accountable and to push forward policy. I want to see that this is facilitated.
Union Development – Sometimes an overlooked part of the Campaigns role, I want to invest a lot of time using my experience in representation and governance to get our structures back working for our officers and members.
Campaign Strategy Committee – The Campaign Strategy Committee provides a critical link between the Coiste Gnó and the MO's. I want to engage the committee in as many parts of our campaigns as possible.
Activism
Campaign Strategy – When elections and structures don't work and our leaders refuse to listen then we must turn to activism. USI is no stranger to taking collective action but this is something we need to cultivate and learn from the past while adapting our strategies to the current day and time that students are living and studying in.
Political Action Group – showing REAL on the ground support to other unions, protests and initiatives as well as having a group ready to mobilize for our own campaigns and protests.
LEAD Web page on the website where you can sign petitions, find your nearest protest, and take part in our campaigns etc. making it even easier to be an activist!