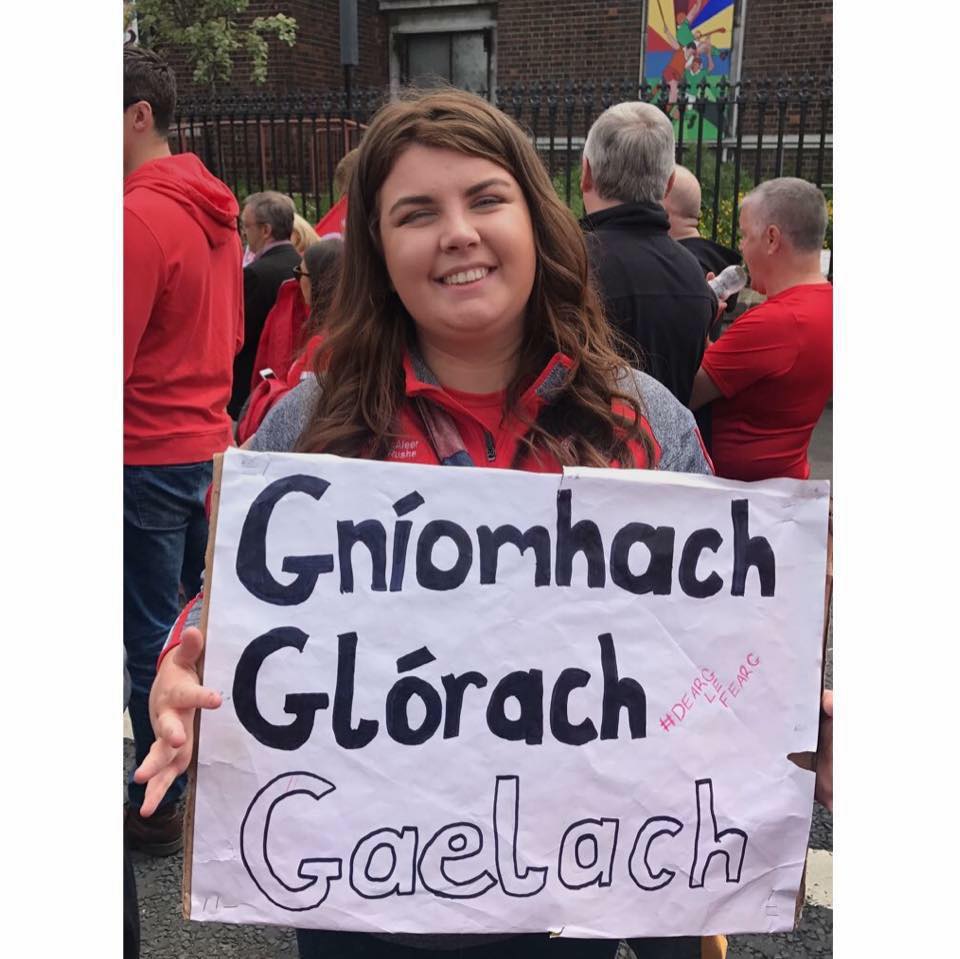 Grian Ní Dhaimhín
Officer at Queen's University Belfast SU
(Note: this document may be stored offsite)
USI is not responsible for the content of any document submitted to USI by candidates.
Grian Ní Dhaimhín do Leas Uachtarán don Ghaeilge
Bhuel a chairde, craic ar bith?
Is mise Grian agus tá mise ag seasamh le bheith an chéad Leas-Uachtarán don Ghaeilge eile d'Aontas na Mac Léinn in Éirinn.
I hail from An Srath Bán i dTír Eoghain, and have grown up through Irish in the six counties. Because of this, I have always been surrounded by great community activists, and have constantly been aware that we have to fight for tooth and nail for the bare minimum; our right to exist through Irish, to learn Irish, and to see Irish. Saol trí Ghaeilge atá uainn!
I am currently the Students' Union President at Queen's University Belfast, and have been fighting for housing rights, reproductive justice, climate justice and Irish language rights during my time at university. Over the years I have:
Created Irish language policies at a local and national level
Organised our Union's first official Ulster Scots Week and Seachtain na Gaeilge
Created an Oifigeach Gaeilge
Been active in the campaign for bilingual signage on campus
I know what it's like to have the law and the institutions completely against us, but I know grassroots activism is how we face these challenges, and win! Because that's what worked for us. If elected:
I will work towards deliverable and achievable aims. I will work with Apprentices and further education colleges and individual MOs to organise for change at a local and national level, be this through lóistín Gaeilge, Irish language accommodation, more modúlanna trí Ghaeilge, modules through Irish and creating partnerships between apprentices and employers to deliver bilingual experiences.
I will work to ensure USI helps pull our Gaeltacht areas out of crisis. They have endured cut after cut and attack after attack, and have struggled massively with the cancellation of summer schemes and university trips due to Covid-19.
However, I feel that we need to deal with the systems that have led to the discrimination against, and the disrepair of, the Irish language; an choilíneachas agus an caipitleachas, colonialism and capitalism.
The national student movement must prioritise the Decolonisation of our Institutions and Education. Our institutions still perpetuate colonial mindsets and ideas, and we need to dismantle this. I will deliver a Radical Plan for Educational Reform for the Irish language in this, and create a Decolonising Network of student activists.
I will also continue to campaign to get rid of the system of marketised higher education we are in now. It isn't working for anyone, only those on high salaries at the top our institutions, and only serves to cause further damage to the Irish language and its place in education and academia.
We need to be rooted and radical in how we approach the Irish language, so vote Grian Ní Dhaimhín for Leas Uachtarán don Ghaeilge at USI.
Vótáil Grian Ní Dhaimhín lenár oideachais a díchoilíniú, troid in éadán córais caipitleachas agus a chinntiú go bhfuil an ghluaiseacht mac léinn ar son cearta teanga radacach agus fréamhaithe sa phobal.
Lean mo leathanach Facebook @votegrian do níos mó eolas.