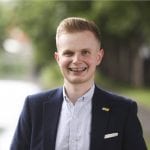 Kevin McStravock
Vice President for Academic Affairs
​Congress, a chara,
It is with great excitement that I write to you as a candidate once again for VP Academic Affairs. Last year, you put your faith in me when I told you I was going to focus on the bread and butter issues affecting students and over the last eight months, I have attempted to fulfill this promise.
My work this year has focused on ensuring that the local student experience is considered by stakeholders at a national level, and that, likewise, your elected officers at a local level are aware of the discussions I'm engaging in on your behalf. All of this has been undertaken with the sole purpose of ensuring that your education is my priority.
I've done that through regular updates, I've done that through creating space for local issues to be discussed at Academic Affairs Working Groups and through developing resources, briefings and supporting documentation in line with feedback from your representatives. And I've also demonstrated it through action.
Through re-energizing the National Student Quality Reviewer pool so students have the opportunity to feed into national quality assurance processes. Through my work on the new NStEP Strategy, including the development of a new Advisory Group with additional student representation. Through the roll-out of the Student Success Symposium in October, and the development of a student panel to assess applications to the National Forum's Teaching & Learning Enhancement Fund. In all of this, the central aim has been to ensure that every student has a stake, and a voice in their education.
Over the next year, there is so much more that I aim to achieve. I want to continue the work I've been carrying out in pushing for a National Student Partnership Agreement, and a Framework to Support Students' Unions – mandates previously passed by Congress.  I will continue to support NUS-USI in developing a proposal for a Partnership programme for Northern Ireland. In keeping with my focus on bread and butter issues, I want to create a national research project on the student experience on placement – giving us the facts, and the stories to enable us to lobby strongly against unpaid placement, and to push for major reform of the support that students are offered on placement.
Another year, and another mandate allows me to build on what I have done so far, and to continue to work with your representatives, and with you so that we can build the future of our education, together. Please read my manifesto for more info on the entirety of my plans for the year ahead, and of course, pop over to me if you have any questions.
Enjoy Congress, and I look forward to meeting you there! Let's finish what we've started – Vote Kevin #1 VP Academic Affairs