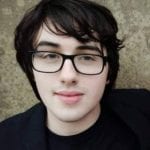 Fergal Twomey
Vice President for Academic Affairs
Hello! My name is Fergal Twomey and I'm a candidate for the position of Academic Affairs VP for the USI. I was born and grew up in Kilcorney, near Millstreet, Co. Cork. I hold a Bachelor's in Chemistry from UCC and I'm currently studying in an MSc programme at NUI Galway. My views on education were influenced by a period of time I spent at the Life Centre aged 10-12, which is a voluntary organisation that utilises a 1-on-1 teaching system for students who have encountered difficulties in mainstream education. This shaped my perspective on education as a shared process, which be should promote the interests and needs of community, enabling the diversity and wealth of experience found between people to become an asset rather than a problem. I'm also keenly aware of the need for strong advocacy for economically disenfranchised and neurodivergent students.
While a student at UCC and NUIG, I've been heavily involved in emancipatory politics. I played a role in the formation of Connolly Youth Societies in both universities, and I've worked alongside my organisation (the Connolly Youth Movement) to stage housing occupations against the housing crisis and the spread of homelessness. I've contributed to the CYM's programme policy on Education and my current work is centred around International Affairs – this gives me a insight into engagement with key educational partners abroad through the exchange of ideas and methods of practice which would prove invaluable to the work of Academic Affairs vice-presidency. In addition to this, I have first-hand trade union experience from shadowing Noel Murphy, the secretary of the Independent Workers' Union.
My experience of education, and the experience of my generation more broadly, has been deeply political, and radical solutions are needed to arrest the trend of underfunding and monetisation of institutions through on emphasis on community resilience and resourcefulness. If the state is failing to provide access to the personal development required by a modern society, the responsibility falls on students to chart their own course. The idea of the academy needs to be rethought so that education can be an empowering experience for all. A community-driven and community-led experience where confronting social issues is at the heart of education.
My policies include:
Working with campaigns officer for development of rent strikes and class walkouts to highlight social issues and demand the democratisation of decision-making in universities.
Minimum wage payment on campus must end and workplaces must be opened up mandatory union membership / branches / organising
Agitate around little or no pay for students placements. (nurses for example, research assistants, pharmacists and so on)
Connect the USI with students on the ground by holding consultative meetings and making the student movement truly participatory.
End of university partnerships with vulture funds such as Blackstone.
Adversarial representation – treatment of the student body a trade union whose wages and conditions are to be fought for like any other.
I want to galvanise student action based around a student tenants' union with the Campaigns Officer.