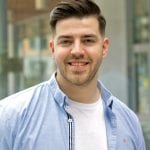 Dean Murphy
Vice President for the Dublin Region
Hi There!
My name is Dean Murphy and I am the current Vice President of the National College of Ireland Students' Union. Over the last five years I have been heavily involved in the student movement, I started off as a class rep in my first year of college and then went on to be a student leader for four years. While being a student leader I was also the Entertainments Officer within the Students' Union for two years, I then went on to be elected as the Vice President for Welfare, Equality and Part-time students.
Over the past five years I have seen the power of the student voice and the influence it can have. I have also seen the challenges that are faced by students all over the country which ignites a fire within me, pushes me forward and makes me want to support and fight for students all over Ireland. I want to continue being part of the student movement that is engaged, focused and results driven.
I have the dedication, experience, determination and overall drive to take the right steps forward in order to achieve results for students all over the Dublin region and across the Emerald Isle.
Some of my main points in which I aim to be more proactive and achieve results in are visibility, support, engagement and accessibility, accommodation and public transport, unity, connection and communication. I feel that these aspects will really intertwine themselves within each Students' Union and will increase the connectivity and unification of the Dublin region which is my main goal among others.
I hope you take the time to vote me your number one for your next Vice President for the Dublin region in the Union of Students in Ireland.
Thank you,
Dean Murphy 
#DeanforDublin