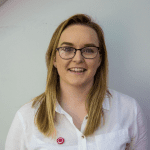 Clíodhna Ní Dhufaigh
Leas Uachtarán don Ghaeilge
A chairde,
Creidim go fiachmhar gur cuireadh ar an saol seo mé leis an nGaeilge a labhairt agus a chur chun cinn. Táim paiseanta, tiomanta agus díograiseach do chur chun cinn na Gaeilge agus ba mhaith liom an paisean céanna a tharraingt isteach go AMLÉ. 
Mar Leas-Uachtarán don Ghaeilge i mbliana chruthaigh mé feachtais, d'eagraigh mé imeachtaí agus rinne mé fograíocht ar son AMLÉ leis an teanga a dhéanamh níos inrochtana do dhaoine, go háirithe dóibh siúd a raibh drochthaithí acu léi ar scoil. Tá níos mó i gceist leis an nGaeilge seachas an Ardteist agus ba mhaith liom go mbeadh sé seo níos soiléire do dhaoine nuair a théann siad isteach sa Choláiste.
Is cuma mura bhfuil ardchaighdeán Gaeilge agat, murab as an nGaeltacht thú nó murar fhreastal tú ar Ghaelscoil. Is linne ar fad an Ghaeilge agus ba cheart dúinn a bheith bródúil as í a úsáid in aon bhealach gur féidir agus as í a chothú.
Táim ag iarraidh leanúint leis an obair atá déanta agam i mbliana agus an Ghaeilge a láidirú laistigh den eagraíocht agus le bhur dtacaíocht, is féidir linn é seo a bhaint amach.
There's is nothing I love more than speaking and promoting the Irish language. I am passionate, driven and dedicated to Irish and I would like to bring this passion into USI.
As Leas-Uachtarán don Ghaeilge this year I have worked hard to incorporate Irish in campaigns, events, and promotion work done by USI to make the language more accessible to people, especially those who had a bad experience in school. There is more to Irish than the Leaving Cert and I want to make this more of a reality to people as they come into college.
It shouldn't matter whether you have a high standard, whether you're from the Gaeltacht or whether you went to a Gaelscoil. Irish belongs to us all and we should be proud to use it in any way we can and to protect it. 
I want to continue the hard work I have done this year in strengthening Irish within USI and with your support this is something we can achieve.