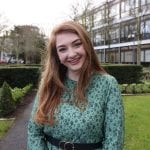 Clare Austick
Vice President for Welfare
Hello everyone!
My name is Clare Austick and I am delighted to be running for the position of Vice President for Welfare on the Union of Students in Ireland Executive Team. I'm from Galway and studied Science here. I've been involved in the student movement for a number of years; as a class representative twice, a part-time Equality Officer, the Vice President for Welfare & Equality last year and the current President of NUI Galway Students' Union.
I have seen how the student movement continually evolves and adapts in order to implement meaningful change to improve the student experience. The role of the Vice President for Welfare is an incredibly important one, both on a national and local level. The Vice President for Welfare is about supporting students by running awareness campaigns and themed weeks, representing the student voice on national committees and lobbying for better support structures, while also providing guidance and assistance to local unions and welfare officers in the work that they do to ensure you get the best welfare support possible.
Reflecting on the many roles I have held and looking back on my journey in the student movement, has confirmed my desire to help others and want to make a positive contribution to society. In order for us to improve our ways of doing things in the welfare remit, we need to change the negative mindsets and attitudes people hold around mental health, consent, substance use and misuse and other relevant issues. We need to be mindful of the daily interactions, relationships, challenges and individual circumstances students experience to truly understand the complexities of holistic wellbeing.
As USI is the national representative body I want to ensure your input and engagement contributes to the advancement of the welfare agenda. I would like to hear your thoughts and ideas on the direction and priorities for the Vice President for Welfare to ensure you feel part of your national union and that you help shape the welfare agenda that impacts so positively on so many students.
I fully understand the many and challenging issues encountered by students on a daily basis. I have gained invaluable experience in NUI Galway Students' Union over the last 5 years and I am fully committed and ready to take on national responsibilities to drive forward meaningful change. I care deeply about your wellbeing, I am dedicated to supporting you and I will ensure that your best interests are at the core of everything we do.
Warm regards,
Clare