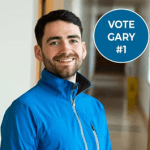 Gary Tobin
Vice President for the Border, Midlands and Western Region
Who I am
Hi all,
My name is Gary Tobin and I am currently running for Vice – President of the Border Midlands and Western Region in the Union of Students in Ireland.
Background
Born and Bred in the beautiful region that can only be Co. Longford, I had the privilege of living in a beautiful part of the countryside and was heavily involved in local community groups from an early stage, helping me develop an interest in group dynamics and the importance of participation.
These experiences coupled with a curiosity in alternative forms of education and the concept of adventure, led me to enroll in GMIT's Mayo Campus where I studied a BA in Outdoor Education & Leisure. It was here that I learned among other things, the importance of "self" in relation to others, our unique environments and how all three interact with each other.
Experience
Having studied Outdoor Education, I have relevant experience in facilitation, leadership, group dynamics and management, communication and experiential learning as well as critical and reflective thinking.
Having spent two years as a single sabbatical officer on a satellite campus, I have valuable experience working on the ground engaging with students in close communities from the bottom up.
I have also been part of a full time team across a multi campus framework. An experience which I believe gives me the best perspective I can have when working with numerous campuses, their officers and students who are all unique in their own way. Both collectively and individually.
As a single sabbat on Mayo Campus, I also have a grounding in the fundamentals of a number of areas relevant to students, while specializing in areas specific to my campus such as welfare and sustainability.
Areas of focus
Some key area which I hope to work with you on include but are not restricted to:
Accommodation
With the accommodation and homeless crises ever on the rise, it is important that we as a student movement continue to work and apply pressure on the government collectively across all regions as well as member organizations in order to turn the tide of the crises.
Engagement
With the BMW role seeing brilliant work this past year in terms of part time officer training, I hope to build upon this initiative, further upskilling officers in their facilitation and developing strategies for nurturing a positive relationship when working with students and other officers on satellite campuses.
TUI Mergers
Coming from a wide multi campus institution where communication is key and with experience in mediation and facilitation, I hope to work closely with MO's as more and more institutes enter the merger process to ensure as smooth a transition as possible.
Closing Statement
Should you elect me to BMW, I promise to do my best to work alongside the officers of this movement to craft the best student experience we can muster. I look forward to seeing you at congress. Gary