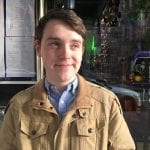 Aodhán Donnelly
Vice President for Campaigns
Hi everyone! My name is Aodhán Donnelly and I'm running for VP Campaigns. Throughout my time in college, I have been involved in activism, both as a student and as a part of broader campaigns. During my time in Trinity, I've realised that I have a true passion for activism, and this has become the most meaningful aspect of my college experience for me. As I am in my fourth year studying Chemistry, my time as an undergraduate student is nearly over, but I feel that I still have more work to do in student activism. This is why I am running for VP Campaigns.
Student activism is more important now than ever. For example, the recent victories in LGBTQ and abortion rights in the north were causes in which students played a pivotal role. Protests are sparking up across the country in multiple colleges against rent increases on campuses, a symptom of the ever-worsening housing crisis. I wish to be a solid voice for student activism within the USI, forge stronger links between the USI and students' unions on campaigns and engage with student activists on the ground in order to assist them in whatever way possible in campaigning for the issues that matter to them.
During my time in college, I have amassed a great deal of experience in the areas of activism and campaigns. During my second year, I was involved in organizing protests for the Take Back Trinity movement, which included the occupation of the Dining Hall and the Book of Kells. We showed College that a proposed 450 euro fee to sit supplemental exams was absolutely unacceptable, and we were ultimately successful in getting College to scrap the fee. Of all the campaigns I've been involved in, this one is dearest to my heart because it showed me that students united together will never be defeated!
Another campaign that really helped me develop as an activist was the successful campaign for an SU referendum in Trinity which mandated that the SU support the international Boycott, Divestment, and Sanctions campaign as well as run a yearly Anti-Apartheid Week in solidarity with the Palestinian people, which was then shortly followed by USI doing the same at congress later that year. It is important that we use our voices to stand up for people like the Palestinians who are so often neglected, and the support the students gave to BDS was an inspiring act of solidarity.
In addition to these campaigns, I have also:
Been an active member of the Cut the Rent campaign in Trinity
Participated in protest actions as part of Take Back the City and the Raise the Roof rallies
Canvassed for the Repeal campaign
Attended the first ever march for choice rally in the north
Brought a successful motion to the SU council mandating that TCDSU give full support to the student strike for climate
I look forward to being a staunch advocate for student campaigns across this island! Beir bua!