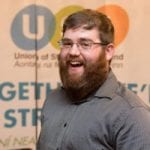 Adam Clarke
Vice President for Postgraduate Affairs
Lil' Intro for ya
Hello there, my name is Adam Clarke. I'm a Post-Graduate student currently finishing my degree in Digital Marketing in IT Carlow, I'm the Post-Grad officer for IT Carlow and I'm currently running to be the next Vice-President for Post-Graduate Affairs within USI.
I'm very passionate about student affairs, having previously served as the President of the mighty CCSU which is now in the capable hands of the delightful Adam Kane. I've learned that while there is a lot of overlap in the post-grad and under-grad experience, the post-grad experience is a relatively unique one that poses its own challenges.
Bit of what I wanna do
A key issue I've noticed in my discussions with other post-grad students is the ongoing issue of employment of post-grad students by universities, I myself have been in a difficult position as a part-time tutor where I haven't been compensated for my prep-time. I did my preparation outside of work/study hours, but this isn't a luxury many other teaching post-grads have. One student I spoke to as Post-Grad Officer told me they had part-time lecturers who would begin their classes by doing their prep then and there in front of the class. I was shocked to hear this as students that had paid for a Master's degree were not receiving their promised education, and those that were teaching them weren't able to achieve their deliverables due to not being fairly compensated for their work.
I firmly believe that education is not only a human right, but a necessity. One that is currently sorely under-funded within Ireland. We currently have the highest education costs in Europe, this is unacceptable, and I intend to engage in all campaigns highlighting the need for education, as proper funding will be a massive benefit to many struggling post-graduate students across all fields. If those teaching are being paid fairly for their work, then those being taught benefit as well.
Post-Grad students have massive workloads, whether they're doing a taught or research Masters, or a PhD. It is hard to find time for anything else, including in engaging in the student experience. Responsibilities like work and family can severely limit the time post-grads have outside of their studies, leading them to be unaware of the resources available within their Student Services and Students' Union. I believe that an important aspect of my role will be establishing and maintaining contact with post-graduate officers across the country, and helping them to establish working groups that give post-graduate students a platform to discuss their experiences, and expand their own networks to combat the isolation that is often attributed with the post-graduate experience.
Be my friend! (please)
If you'd like to speak to me at any point leading up to Congress, feel free to reach me at supostgrads@itcarlow.ie, I'd heartily welcome the opportunity to discuss my manifesto with anyone interested in post-graduate affairs. See you soon!