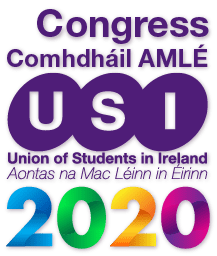 Elections at Congress
USI Elections will take place on 7 April 2019 at the Knightsbrook Hotel, Trim, Co. Meath.
USI will run official hustings at 8pm on 6 April 2019 at the same location.
Some Students' Unions will run their own hustings for candidates.  These are not considered official events and are run outside the control of USI but are listed here for convenience of all candidates.
Candidate information
Each candidate may submit information to the USI Congress website, which we will publish soon after the close of nominations.
A sample of the layout for candidates is provided on this whimsical page.
Elections Regulations
Elections are regulated by the USI Constitution and further rules are developed and overseen by the Electoral Commission.  Elections are then carried out by the USI Elections Subcommittee of the Steering Committee.
All USI election campaigns are subject to a spending limit of €300.00 per candidate.
The USI Constitution Articles 6.2 and 6.3 establish the current regulations.
Unofficial Hustings Listing
We haven't been notified of any unofficial hustings to date.